Bhai Behan Shayari
Shayari is the best way to express one's feeling and affection to your loved ones. If you like to express your feelings with Hindi or Urdu Shayari then you are at right place. We always share unique Shayari collection by which you can express your feelings of sadness, love, romance, wishes and all other kinds of the situation through these latest Shayari of 2019.
Shayari uses least words but expresses your feelings to masses. Beautiful Hindi bhai behan Shayari can be used to express your affection and emotions. Nowadays Shayari are used on social media like Facebook, Whatsapp, Twitter, Instagram, and other social media network to stay connected with the world.
We always update our Shayari's and keep you updated with the trending Shayari and status for Facebook and WhatsApp. We have given our best to give these lovely best gajab Shayari, please share them with your friends and family if you like them.

बहन का प्यार किसी दुआ से कम नहीं होता
वो चाहे दूर भी हो तो कोई गम नहीं होता,
अक्सर रिश्ते दूरियों से फिके पड जाते है,
पर भाई बहन का प्यार कभी कम नहीं होता।
Bahan ka pyaar kisee dua se kam nahin hota
Vo chaahe door bhee ho to koee gam nahi hota,
Aksar rishte dooriyon se phike pad jaate hai,
Par bhaee bahan ka pyaar kabhee kam nahin hota.

खुश नसीब है वो बहन जिसके सर पर भाई का हाथ होता है,
चाहे कुछ भी हालात हो,
ये रिश्ता हमेशा साथ होता है !!
Khush naseeb hai vo bahan jisake sar par bhaee ka haath hota hai,
Chaahe kuchh bhee haalaat ho,
Ye rishta hamesha saath hota hai !!
Happy Teachers Day Quotes and Wishes

वो बचपन की शरारते,वो झूलों पे खेलना
वो माँ का डांटना,वो पापा का लाड-प्यार
पर एक चीज़ और जो इन सब में ख़ास है
वो है मेरी प्यारी बहन का प्यार
vo bachapan kee sharaarate,vo jhoolon pe khelana
vo maan ka daantana,vo paapa ka laad-pyaar
par ek cheez aur jo in sab mein khaas hai
vo hai meree pyaaree bahan ka pyaar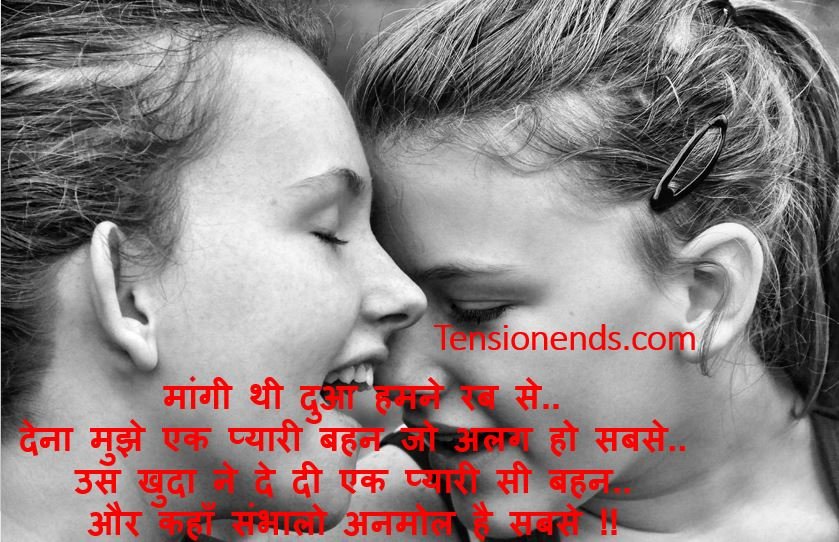 मांगी थी दुआ हमने रब से..
देना मुझे एक प्यारी बहन जो अलग हो सबसे..
उस खुदा ने दे दी एक प्यारी सी बहन..
और कहाँ संभालो अनमोल है सबसे !!
maangee thee dua hamane rab se..
dena mujhe ek pyaaree bahan jo alag ho sabase..
us khuda ne de dee ek pyaaree see bahan..
aur kahaan sambhaalo anamol hai sabase !!
आज दिन बहुत खास हैं,
बहन के लिए कुछ मेरे पास है,
उसके सुकून के खातिर ओ बहना.
तेरा भाई हमेशा तेरे आस-पास हैं
Aaj din bahut khaas hain,
bahan ke lie kuchh mere paas hai,
usake sukoon ke khaatir o bahana.
tera bhaee hamesha tere aas-paas hain